14.04.2018
New Single - Off We Go
Here is the new single from Supercharger "OFF WE GO".
Enjoy! ;-)

This is the 3rd single, giving a hint of what can be expected on our coming album "Real Machine", which will be out June 1st.

Thanks to everyone at Gain, Tobias Lindell, Dragan Tanaskovic, Mariyah LeBerg for once again doing the awesome backing vocals, Kasper Vejlø Kristensen & Eyelight Film & Video for the splendid video.






08.03.2018
New shows added
Supercharger will hit Germany again this spring.
We're looking forward to May.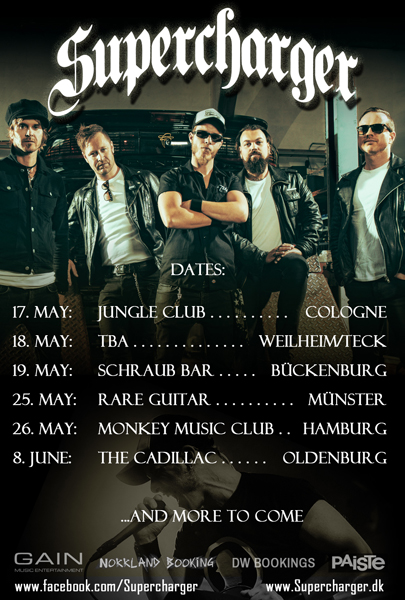 26.01.2018
Supercharger supporting Eclipse
It has just been confirmed that Supercharger will support Eclipse
at Kulturbolaget in Malm&ouml the 26th of January.

Get tickets here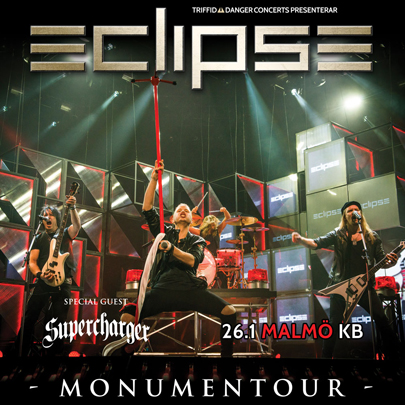 03.11.2017
The Ride
Here it is. The new video from SuperCharger.

"THE RIDE" feat. Clare Cunningham




Stream: https://gain.lnk.to/IhJu_
Video: http://bit.ly/2A1YXpG

Video by: Cas Holbek & Henrik Stendahl
Photo by: Michael Caddy


Big thanks to John Smith and Merete Hansen for lenting us cars and location. We couldn't have done it without your help. <3



16.10.2017
New single
On November the 3rd SuperCharger is out with a new single.

The song is called "The Ride" and it's featuring Clare Cunningham (former singler of the great Thundermother)

We can't wait for you all to hear it.

Stay tuned for more..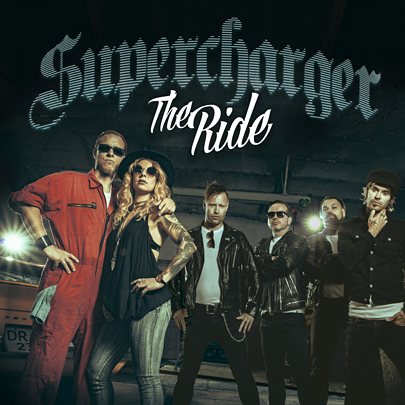 Photo credit: Michael Caddy



02.10.2017
X-mas comes early this year
Supercharger will celebrate J-Day and the release of this years X-mas- brew Tuborg Julebryg, by plaing a show at Lygten Station, Copenhagen.

We will be accompanied by the excellent Junkyard Drivea.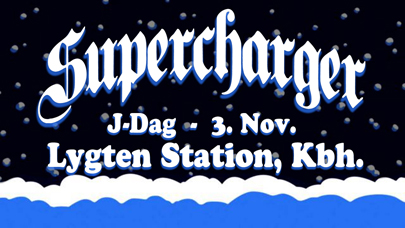 03.04.2017
New show added!
Fundbüro in Hamburg, Germany. The 26th of May.



24.02.2017
Presenting the video for "Rottenburg"
Here's the video to "Rottenburg", our first single of the upcoming album.

It's filmed at Le Bambole by Ryan Lumbye, with additional Hamburg shots by Aron Funk. Cut and graded by Caspar Holbæk and Henrik Stendahl.

The song is produced by our very own K.D. at Sound Matters, mixed by Tobias Lindell and mastered by Dragan Tanaskovic at Bohus Sound Studio.

Enjoy!







06.02.2017
Rottenburg cover
Today we reveal the cover for the coming Supercharger single "Rottenburg", which will be released this Friday (Feb. 10th)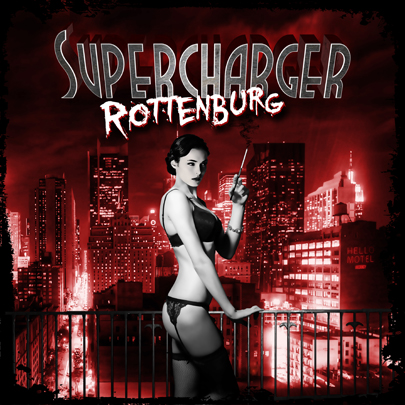 04.01.2017
New single release February the 10 th
Happy rocking new year!

There are so much news coming up this year, it's hard to choose where to start. But let's kick of 2017 by announcing the release date of our first single + video of the upcoming album.

We've worked, fought, and struggled to make this happen, and finally the countdown has begun. In 37 days the first new Supercharger tune in 3 years, will blow out of your speakers. In the meanwhile we'll feed you more facts and insights about the new single.

So stay tuned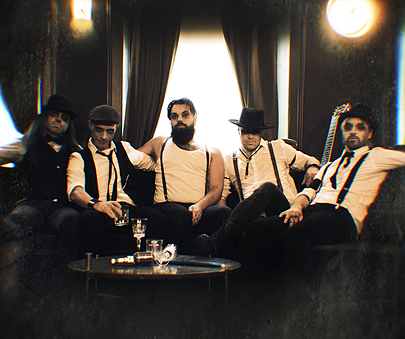 15.10.2016
It's cooking in the Supercharger camp
We are working hard in the studio at the moment. Can't wait to release some now material to all of you.

Here is a little appetizer for now. Enjoy!





19.05.2016
Langeln Open Air
Listen up Germany and Jutland!

We will take a short break from recording our 4th album to play only one show this summer. We're very proud to confirm our Co. headlining at this years Langeln Open Air on July 16th.
We really miss being out there and hope to see many familiar faces and of course welcome new ones to our herd! Will you be there? \m/


17.11.2015
Hard Rock Hell #9
Hard Rock Hell #9 is over and done. Supercharger played a successful show at stage2 on saturday. We had a blast both on and off stage.

Here is an interview with TBFM Internet Radio right after the show.
K.D. and Buggi from Supercharger talks about tour, new album and backstage festivities...





21.09.2015
Rebels of Scandinavia Tour over
It has been an amazing tour from start to end. The fact that this tour was so close to being canceled, after losing our lead-singer, just makes this now complete and successful journey an even greater victory.

The biggest THANK YOU to Linc Lan Johnson. You saved our ass, and did the impossible just when everyone thought it was over. This tour was the final test that would prove to us if you really have what it takes. You are an amazing singer, and we are hope we now can open a new chapter of Supercharger.

We want to thank all our good friends from The Scams and Thundermother for being part of this and giving so much every night. Both on and off stage. You have been awesome to tour with and there are too many parties and good memories to mention here.

Also thank you to the crew:

Lisa: You've been a great tour-manager. You've helped, organized and saved our asses so many times. You positive and professional approach is really amazing. We hope we have the chance to bring you onboard again sometime soon.

Marko 'the driver': For being an excelent driver and putting up with all our bs. so many times.

Alex: Thank you for all your efford. You've been such a big help. Thanks to you we could focus on delivering a good show every night.

Mimmie: A better merch.-girl does not exist. Thank you for taking care of the shop without questioning, and at the same time being in the front-row dancing every night, inspirering both bands and audience. Your positive enegy and party-hard mentality, has no doubt made this tour even better.

Also thank you to our partners in crime. Chris from Danger Music & Media and the good people at Gain Music. Thank you for beliving in us. Especially during these last tough 5 months.

And last but definitely not least. Thank you to our faithfull friends, fans and supports. SuperCharger - Italian Supporters, SuperCharger - Headquarter Germany and all the fans that have showed up all over Europe to see the shows. You are the ones that makes this possible and proves that rock'n'roll cannot die.


Horns up and thank you all.

Supercharger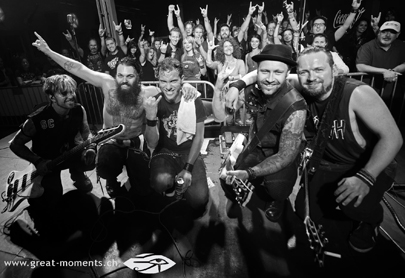 Photo credit: Daniel Strub



15.09.2015
Tour-diary #3 - Warsaw
The local promoter and his colleagues really went out of their way, to make us having the most comfortable stay on this tour so far. The catering offered everything I could have demanded for in this moment. Fresh vegetables, fruits, snacks, sweets, all kind of beverages. Everything was there. We even had a real dinner. Cooked for us that was just too good. Everybody was so kind.

However something went wrong with the sound system during Thundermother's soundcheck, but they were able to fix it. Daniel (singer in The Scams) later on, got hit by a lightning bolt outta his mic. No miracle, since they have played unbelievable high voltage rock'n'roll thas night

After The Scams finished their show, it was our turn to hit the stage. I still get the shivers when the intro says: 'From Copenhagen: SUPERCHARGER!' To me it still sounds so majestic, thrilling that in this very moment I can consider myself being a part of it. Fueled with energy and some shots I surprised everybody this night, including myself. With a range I haven't heard from myself in a while, I even went to reach out for Halford this night. Everything was possible and I had a blast.

The after-show-party already started while loading out, and should last until dawn. 'It's along way to the top if you wanna rock and roll'. And although it is a rocky road it is a funny one, and so 'I want it all, the rise and fall'!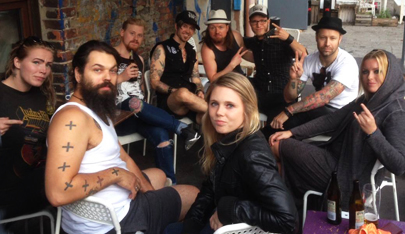 12.09.2015
Tour-diary #2 - Berlin
'This is Kreuzberg'!

Saying this you can obviously justify everything, no matter if it is good or not. The reserved parking lot for the bus is blocked. Car owners just ignored the signs so the venue-owner had to call the cops. 'This is Kreuzberg!' the venue-owner said as an excuse for the first, but not for the last time.

The 'Cortina Bob' is a punk rock venue through and through - 'This is Kreuzberg'. That meant the PA system was malfunctioning and our sound-tech Lisa said it was the worst system she has ever had to work with, yet. And she is on the road for quite some years.

The venue is extremely dark and shadowy so while loading in, I saw people (incl. myself) hitting a wall more then once. The catering was self-made gluten free, veggie, vegan plus some sausages for the carnivores. It was just fine.

'This is Kreuzberg!' To cut it short: Many other strange things happened to occur before we went on stage... The strangest thing: Claire (Thundermother) had to pay for her orange juice, and a crazy guy trying to take Buggi's guitar. Claiming to be the guitarplayer from Scorpions. Even if that wasen't the biggest lie, it hardly gives him the right to steal a guitar.

Stage time. I can tell that Buggi and I had lotsa fun. The fact that we haven't enough space to set up our InEar-system, just satisfied our 'oldschools souls' and we had a blast on stage. Although the voice was still affected by last night's shots, we went through the set without actually hearing anything. But this is 'Supercharger'. Facing and handling every situation just well.

I must say I was very impressed by our merch-girl Mimmie. She really did an amazing job in changing her spot of the club into a real cool looking merch-shop, like the ones you find in Freidrichshain.

'This is Kreuzberg!' A bit unpredictable, but by being that you expect the unexpected and react spontaneously to whatever situation. Like trying to recall to get as much water as you think out of the backstage room and into your bunk. And brushing teeth with beer does only feel strange the first time

Getting a bit wasted with the guys from The Scams drinking jägermeister. I had no clue that this is how it's going to be for the next couple of nights... but that's a different story.

Tomorrow: Poland. Looking very much forward to it!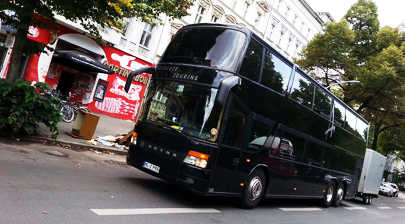 10.09.2015
Tour-diary #1 - Hamburg
Hey, everbody this is Linc. The new voice of Supercharger. Since this is my first headlining tour on a nightliner, I decided to write a little tour-diary. Hope you'll enjoy reading.

In the book 'The Road Most' Traveled by singer-songwriter Chuck Ragan there is one simple rule pointed out all the time. As a singer you need to keep your motor clean and running. Being wasted only means you cannot deliver, so it is all about vocal rest. Well... but the last thing you tink about when you are out kicking it off with kick-ass rock and roll bands from Scandinavia, is water and sleep. Plus singing about being Hungover in Hamburg or Sunrise Over Reeperbahn just demands own experiences right?

When I arrived in Hamburg we had to rush through a soundcheck, which was rather strange, because the band had to get used to play with in-ear monitoring. It has its advantages, but it' takes some getting use to.

So while the phenomenal Thundermother entered the stage, we were entering the backlounge of the bus to go through some of the songs. We started to get into the spirit and relax a little. While The Scams rocked, we were warming up doing stretching and having a few drinks. We went on stage...and everything got blurry. Besides problems with the in-ear monitoring and a few lyric mess-ups, everything went just well for the first time being on stage with Supercharger.

Things could haven been done better, but the fans were all very satisfied and this is the most importen thing. So many people were coming up to me afterwards, gave me a hug, asked me for autographs. Everyone were so so kind to me in spite of somehow different voice.

After we got off-stage Thundermother (being very disciplined musicians) went straight to the bus while the rest of us went straight to The Reeperbahn for at bit celebration. It was more than a bit! Meeting up with some more fans and having ALOT of shots, but it was worth it.

Worthless was me and crew-man Alex's attempt to save some money by walking back to the bus. So we were the last one's back on the bus, sleeping I found my assigned bed. Well... it's not a bed it's a 'bunk' or rather close to a coffin. Being places all the way in the back right over the suspension it's not only rolling from left to right but also up and down. To say the least, it takes some getting use to, and I diden't get alot of sleep. Waking up the next morning I was definitely 'Hungover in Hamburg'. The lifw on the road...

I enjoyed it very much and I am excited what will happen next.. :-)



21.08.2015
One more show added to the Tour
One more show has been added to the Rebels of Scandinavia Tour.

Now we've got 12 show in a row. No off-days!!!
Just the way we like it.

We're coming back to the Czech Republic. And this time we'll do the Boogie Woogie at M13 club in Brno.

See you down the front!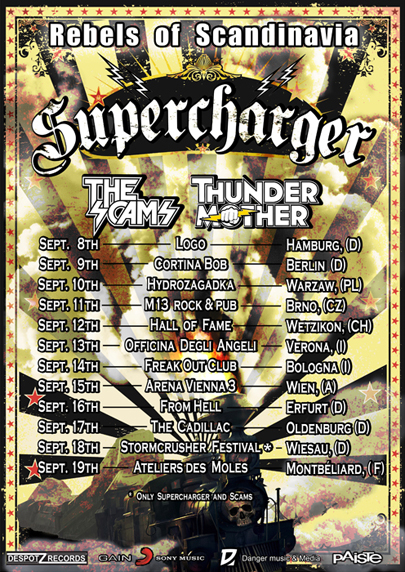 20.08.2015
Picking up a certain "Somebody"
Buggi & KD are picking up a certain "somebody" at Copenhagen Airport... Can you spot him?



12.08.2015
Your favorite Boogie-Woogie band goes on tour
Supercharger is back, and hits a venue near you very soon.

>> Attention <<
To find out who will be doing the singing'n'screaming for Supercharger on the tour, follow us on Twitter or Instagram.

https://instagram.com/superchargerdk
http://twitter.com/superchargerdk/

The "Rebels of Scandinavia Tour" will visit citys all across Europe, and this time we'll bring some of our good friends, The Scams and Thundermother.

Check the complete tour on the poster and be sure to get your tickets.

We are super exited to get on the road again, and cant wait to see you all.
See you down the front!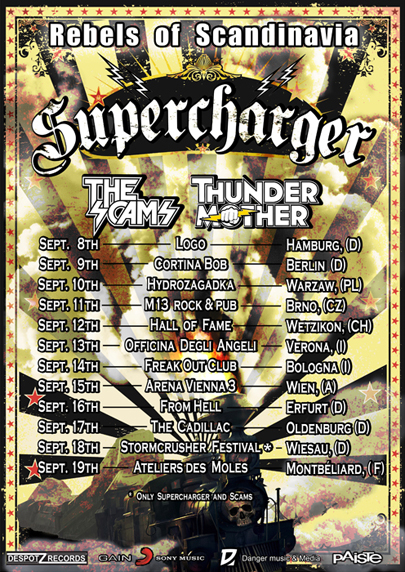 04.08.2015
US Motorvehicle Roundup
Supercharger regrets to announce that we have to cancel our show at this years US Motorvehicle Roundup.

Due to the loss of our singer, we sipmly can not be ready in time to make a proper show. We are very sorry and hope we can make it up to all of you motorvehicle-rockers some other time.

However we promise to be ready and in shape for our european tour in September. On this tour we're bringing The Scams and Thundermother as support. Dont miss it. It's gonna be GREAT.

Stay tuned for more news...




10.06.2015
Supercharger looking for new singer
Are you an experienced rock'n'roll frontman or a born rockstar
waiting to be discovered?

Do you work hard, and rock twice as hard?

Do you wanna be in a traveling band, see the world
and conquer the masses?


If you have what it takes. Just drop us a line.

If not... No need to waste your time. Just scroll on to something else.


Supercharger
info@supercharger.dk
https://www.facebook.com/supercharger



21.05.2015
Singer of Supercharger leaves the band
Supercharger continues.
Supercharger regrets to announce that Mikkel has decided to leave the band due to personal reasons. His exit came as a surprise to all of us and unfortunately this may result in cancellation of some of the shows during the fall.

However, Supercharger WILL go on, and we are already on the lookout for a replacement. In the meantime we appreciate your support, and hope that you will remain patient and stay with us.

Are YOU our new guy?
Drop us a line at info@supercharger.dk

Drop us a line at info@supercharger.dk

We hope to see you all soon.

Yours
Supercharger


05.05.2015
4 UK shows canceled
Supercharger is sorry to inform that we have been forced to cancel the 4 UK shows in Sutton in Ashfield, Edinburgh, Nottingham and Consett.

We are very sorry and hope to be back in UK later this year instead.



20.04.2015
Best Rock Album of the Year
Supercharger took the award for "Best Rock Album of the Year" at
High Voltage Rock Awards in Copenhagen this Saturday.

Martin Jensen and Steffen Jungersen... what a night! Thank you again for giving birth to this event. We want to underline the importance of what you created, and hope that you will be able to keep the event as unconditional and pure, as it it was this Saturday.

We would like to say thank you to some of the people that has helped Supercharger make this album a reallity.

Thank you to...

Our wifes, girlfriends, sons, daughters and the rest of our family. You are the ones that makes all this possible for us. Thank you for all your undestanding, help and support.

GAIN/Sony. Especially Magnus Lundbäck, Markus Tagaris, Johan Gren and Anders Fästader.

Tobias Lindell and Dragan Tanaskovic for mixin and mastering. You definitely did yours for this album.

Ralf Gyllenhammar, David Johanesson and Nicke Borg for being part of it.

Bjørn Vidø, Henrik Stendahl og Casper Holbek for helping out when it got sticky.

Dennis Samaras and Lars Anders Rygaard of course it wouldn't have been that record without you. We miss playing music with you.

All the fans and people out there who keep on working with us, keep coming to that shows, spreading the word and supporting us.
You know who you are, and we are forever grateful!

Finally each of us would like to thank one another. Together we are strong!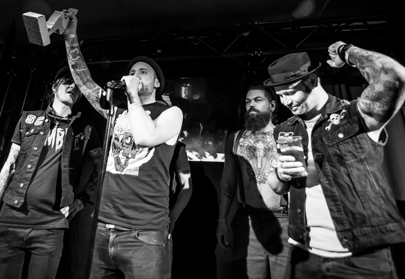 08.04.2015
This NEWS is just in...
We are very pleased to tell you that Supercharger is not only gonna support Hardcore Superstar this Saturday at Tivoli, Helsingbor.

We are also gonna be there thursdag at Stick Fingers, Gothenburg and Friday at Fryshuset, Stockholm.

So get your tickets and spread the word to every one
The fun starts tomorrow!




01.04.2015
New tour in September
Barely home from touring Spain, Supercharger can now announce a new european tour.

In September Supercharger, The Scams and Thunder Mother will join forces for the Rebels of Scandinavia Tour.

Note: More dates will be added..




Warning: include(blog_2015.03.20.php): Failed to open stream: No such file or directory in /customers/4/2/8/supercharger.dk/httpd.www/index.php on line 275 Warning: include(): Failed opening 'blog_2015.03.20.php' for inclusion (include_path='.:/usr/share/php') in /customers/4/2/8/supercharger.dk/httpd.www/index.php on line 275

11.03.2015
Chance of venue on March the 21st
Unfortunately the Bunker in Salamanca has canceled, so the show the 21st of March has been changed to the Metalarium in Badajoz, Spain.

Sorry for the inconvenience.



04.03.2015
Supercharger back to Helsingborg
Great news!
After Supercharger's cancellation, due to illness in the band, we can now announce that we will be back to Tivoli in Helsingborg on April the 11th, supporting Hardcore Superstar.

Get your tickets HERE



25.02.2015
Hard Rock Hell
We can now announce that Supercharger are on the bill for this years Hard Rock Hell in Wales.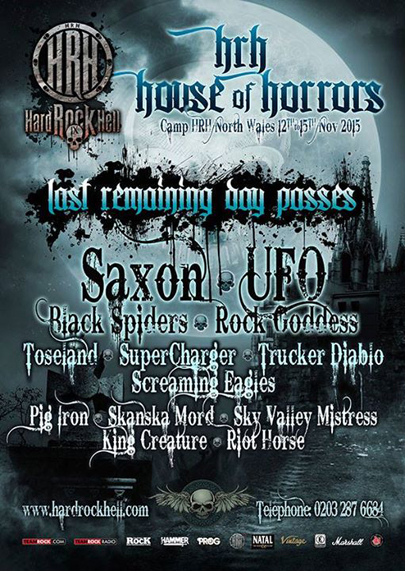 09.02.2015
Thank you Nepomuk...
A big thanks to Nepomuk and the Rock im Wald Crew..
The support, the crowd and the freaking energy Nepomuk, we felt like we were coming home.

What a weekend!
Here is Blood Red Lips from the show:




05.02.2015
Hooray hooray...
Supercharger will bring "the truth" back to the young people of UK in May.

Here are the dates:





03.02.2015
Bayern...Sind sie bereit?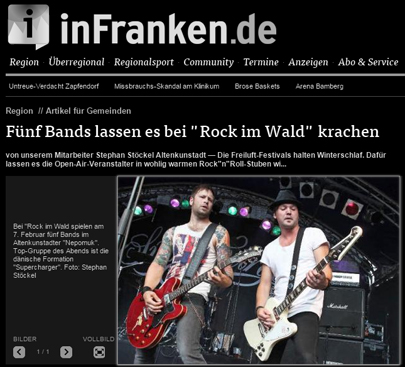 22.01.2015
One more italian show added
We have just added an italian show on May the 7th at Goto Storto in Trebaseleghe.
Stay tuned.. more to come.

See you in Trebaseleghe... Capisce!



16.01.2015
The Fallapart-tour 2015
Two new italian shows added, and we cant wait to see our
Italian Supporters again here:


Here is the first part of the Supercharger's FALLAPART TOUR 2015.

Note that the scedual willbe updated continuously, so stay tuned for new dates...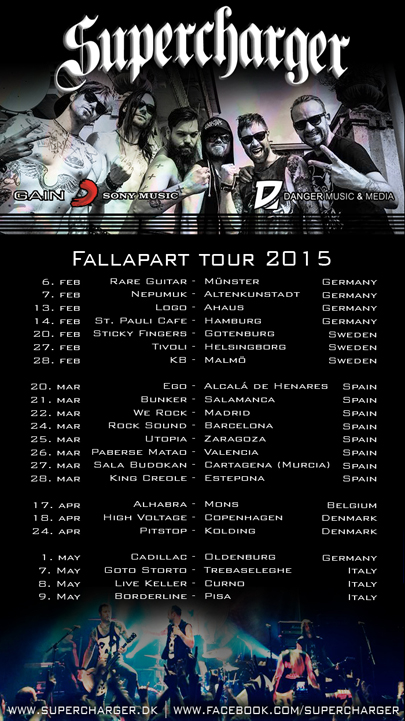 14.01.2015
Yet another german show added
We are happy to announce that Supercharger will play Cadillac in Oldenburg again the 1st of May.

Last time we played in Oldenburg was in 2012, so it's about time. We're looking forward to play at Cadillac again.



See 2014
See 2013
See 2012